---




QT2510
QwikInjector™

© Copyright 2004 - BAYA ENGINEERING
Cetin Emec Bulvari, 4.Cadde 73.Sk. No:12/2 06460 A.Ovecler/Ankara- TURKEY
Tel.: +90 (312) 472 26 42 Fax : +90 (312) 472 26 43
E-Mail : baya@baya.com.tr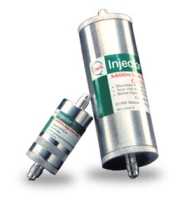 QwikInjector™
ADDITIVE INJECTION TOOL
fast and convenient tool for injecting liquid
additives into operating systems..!
" QwikInjector is a durable, fast and convenient tool for injecting liquid additives into operating systems. QwikInjector is compatible with virtually all gauge sets.This preventative maintenance tool allows the technician to perform annual preventative maintenance acid removal without breaking down the system
Use QwikInjector with other fine QwikProducts such as QwikShot® Acid Treatment. "
Chemical additive injection on operating systems,
Rugged aluminium construction,
Used with standard manifold gage,
Drip proof, no spill design,
Patentli bir üründür.
1. Unscrew top and fill Injector to top with QwikShot. Fill completely so there is no trapped air. Tighten screw top.
2. Connect the Injector as shown in Figure 1 and purge the lines.
3. Open valves on manifold and with the high side pressure drive QwikShot liquid into the low side of the system.
How it is used?
Operating hermetic units may now receive preventative maintenance by using the QwikCheck™ to check for acid through the service valve. Follow with the QwikShot™ acid remover on hermetic compressors with the QwikInjector. This preventative maintenance tool allows the technician to perform annual preventative maintenance acid removal without breaking down the system


Mainstream Eng. Corp. Authorized Representative