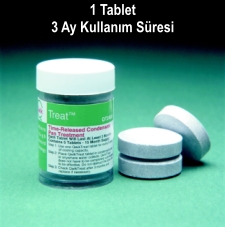 QwikTreat™
TIME RELEASED
CONDANSATE PAN TREATMENT
finally a quick and simple way to treat and prevent condensate pan scum..!
" QwikTreat is the first tablet that lasts like a pad. Until now, many tabs claimed to last and failed to deliver. QwikTreat is guaranteed to last at least 3 months."
Treats and Prevents Condensate Pan Scum, Scale, and Deposits,
Eliminates and prevents the growth of

Legionella Pneumophilia

and other harmfull microorganizms,
One Tablet Will Last At Least 3 Months,
Natural and Biodegradable Ingredients,
No Odors,
No Volatile Chemicals,
Small, Easy to Handle Tablets,
Unique, patent-pending design.
Day 0.: QwikTreat put into very dirty drain pan.
QwikTreat™ is guaranteed to last at least 3-months..!
1 Tablet = Lasts 3-Months
Many technicians have encountered condensate pans filled with scum, scale, and other deposits. These dirty pans can cause odors, clog drain lines, and cause other indoor air quality problems for the equipment owner.
Treating these dirty condensate pans with chlorine-based or salt-based treatments is only a band-aid for the problem. These treatments work in the short-term, but are quickly dissipated, allowing the problem to recur in weeks. This means that frequent retreatment is necessary to eliminate the problem. Longer-lasting pan treatments are available, but they are expensive and difficult to use.
Inexpensive, easy-to-use, long-lasting condensate pan treatment -QwikTreat- is a patent-pending time-released tablet that will treat and prevent scum, scale, and deposits that can cause odors and clog drains. The ingredients are combinations of biodegradable and natural compounds.


Mainstream Eng. Corp. Authorized Representative


Day 30: QwikTreat still present and there is a noticeable cleaning of the drain pan.
Day 100: QwikTreat is still present and there is a very significant cleaning of the pan.